Have you ever seen those crazy successful bloggers and influencers and thought,
"CAN I REALLY MAKE MONEY DOING THAT TOO?"
You might have been blogging for some time now and are frustrated with your own results.
Or you might be new and are overwhelmed with the seemingly endless amount of work you have to do.
Whether you're afraid of starting a blog or if you've already spent countless hours on your existing online presence, it's no question that investing a lot of time and money without seeing a return can be discouraging. After all, with the rest of the bloggers in the world climbing for a place at the top, you might just get lost in the digital Internet sea.
But what if I told you that there was enough room for everyone to eat at the table? Even better...
...WHAT IF I SAID YOU COULD SIT WITH US TOO?
Oh, it's possible. I started from the bottom, and now I'm here.
When I started my blog, I had $72 in my pocket and shelled out my credit cards to take endless courses written by several prolific and successful bloggers.
And although I applied everything I learned, it just wasn't making me enough money.
Why? The problem was, none of these courses catered specifically to fashion, beauty, and lifestyle bloggers.
I quickly learned that there was no single course, no ebook, no strategy out there specifically meant for creating and monetizing a fashion, beauty and lifestyle blog. So I made some major adjustments, set out to test my theories, and went to work.
After one year, I made an annual income of nearly $40,000 from blogging.
My Pinterest shot up from under 350,000 monthly page views to 719,000+ in 3 months. And it continued to grow into the millions.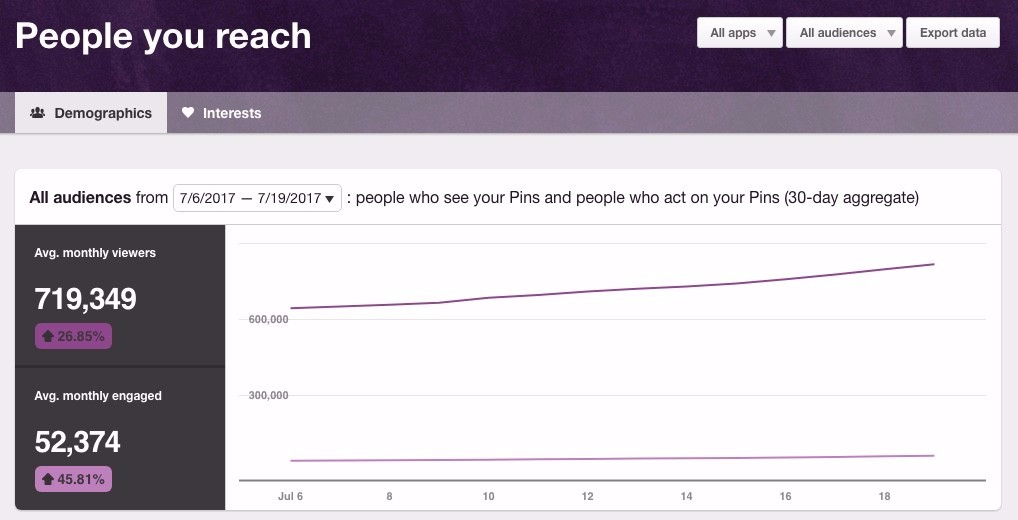 My situation with Instagram was no different. With tons of trial and error, perseverance and patience, I finally got my account to 10,000 followers in just under 4 months.

The booming traffic across my blog and social media platforms were social proof of my growth, but there was something even greater that happened simultaneously.
I began working with brands I had only ever dreamed of working with.
I've worked with major and well-known brands such as:
Genesis
Sprint
Shopbop
River Island
Sephora
Google
Simon Malls
Apt2B
And many, many more.
I've received free services from massages to microblading to permanent lip color, attended press trips to Vegas with complimentary 5-star hotel stays, VIP nightclub entry and table service, and more. I've landed partnerships with furniture brands and received over $7,000 worth of free furniture in a single deal. I no longer have to pay for things like makeup and clothes either... and best of all: I work for myself and get paid to write about all the things that I love.
Is this the kind of success you want? Well you're in luck...
I've compiled all of the strategies I used so that you can work with your favorite brands, get your lifestyle paid for, and get paid on top off it too.
In The Blogger Bible, you will learn everything you need to know to become a professional fashion, beauty or lifestyle blogger, from building and designing your blog to marketing your brand. This course is geared towards not just brand-new bloggers who need step-by-step guidance, but also bloggers who need to improve their marketing strategy, increase profits, and see results.
After incorporating these strategies into your blogger business plan, you will learn how to write like a magazine editor, efficiently navigate Instagram and other social media platforms like a pro influencer, snag those brand sponsorships, and watch the income roll in from several avenues.
In this course, you will learn how to:
Build a gorgeous blog from the ground-up
Run your business legally and responsibly
Develop a branded aesthetic, voice and personality that your audience will love
Take beautiful pictures without paying a professional photographer
Build a targeted audience that is loyal to your brand (and therefore generate more sales!)
Increase your traffic and expose your blog to new readers every day
Monetize your blog using several different avenues
Monetize your social media platforms such as Instagram, Pinterest, and Facebook
Build passive income without needing to sell a product
Work with your dream brands and get free products and services
Throughout my journey so far, I have met several bloggers who have never made it past the $100 income threshold, despite months or even years of blogging under their belt.
Even though these bloggers had beautiful websites, a unique sense of fashion, and impeccable images, their audience numbers were lackluster, and they didn't understand why they weren't making money. And this isn't just a problem for seasoned bloggers... this is a problem that new bloggers run into as well, which eventually causes them to give up on their dreams of success. Don't let this be you!
Blogging isn't as simple as taking cute pictures of your outfits and posting product links, hoping that someone buys the stuff you promote. The truth is, when you became a blogger, money doesn't just come to you - you have to go find it. And through tons of trial-and-error, I learned where all the money was hiding.
As for you? You can go find it too. You just have to get to work.
Learn my methods and see how your blog can pay for your lifestyle today!